Recently, I went on a weekend getaway trip with my boyfriend to Jordan River, BC, and we stayed at the extremely cozy and relaxing Ocean Treehouse Airbnb. It was such a relaxing and rejuvenating trip 😍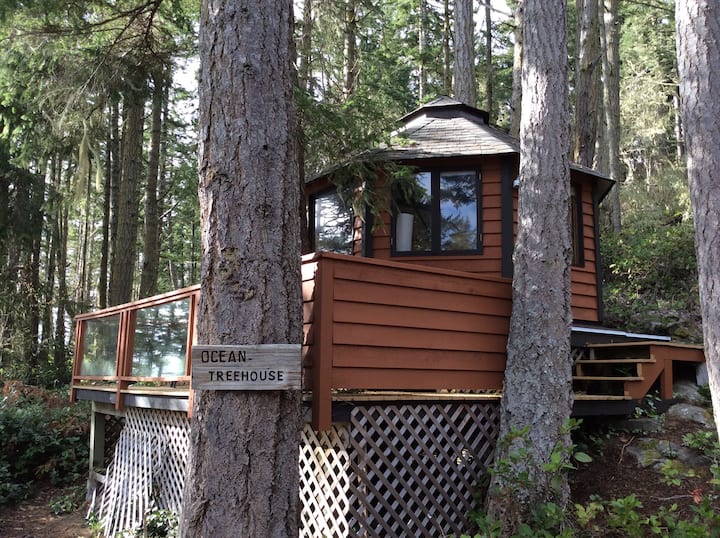 With all the craziness in the world, I've been prioritizing local travel lately, which is why Jordan River was the perfect next destination since I currently live in Victoria, BC.
Jordan River is an hour and a half drive from Victoria, past the charming town of Sooke, and is home to some of the best west coast beaches on Vancouver Island 🇨🇦
People come to Jordan River to disconnect from reality and enjoy everything BC has to offer: Thick green forests 🌲 and rocky beaches. This is exactly what we did during our two days here.
The Ocean Treehouse was everything I expected when I booked it.
We stayed on Ineke and Dale's beautiful property, which is technically in the neighbouring town to Jordan River, Shirley, and had a great two-night stay.
The Ocean Treehouse is a one-room studio-style Airbnb equipped with everything you need for a short trip. I don't recommend more than a three or four-night stay since it is a little tight, however, if you plan on being out and eating out a lot, it can definitely work for longer stays.
The Ocean Treehouse amenities:
Shower
Queen bed
TV
DVD player
Wifi
Mini fridge
Two stove burners
Sink
Microwave
Tea kettle (this didn't seem to work)
Coffee maker
Pots, pans, utensils, etc.
Hot tub (Shared with the owners)
Bathrobes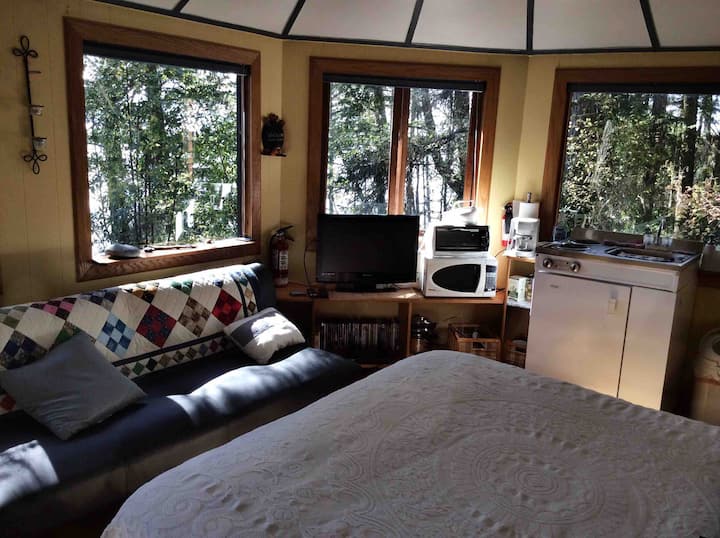 The appliances and utensils are quite old, so this trip would have been even more enjoyable if things, such as the pans were replaced. However, once again, for a short stay, it's easy to look past that.
Overall, like I said, The Ocean Treehouse has everything you need for a short and enjoyable stay 🤗
The only thing I wished I did differently was bringing my DVDs! Luckily, they had a handful of classics. We watched My Neighbour Totoro and Kiki's Delivery Service, which we had been meaning to watch for a while. The Ocean Treehouse also has a salt lamp, creating the ultimate cozy vibes while we watched these movies.
The property is stunning: It's surrounded by green forest and even has a pathway to a gorgeous lookout that has chairs and a firepit. It's the exact same view as you get at French Beach too, which is only a quick two minute drive away.
If you decide to stay at this Airbnb, here's what I recommend you do in the area:
Visit French Beach 🌊
Check out China Beach
Hike to Mystic Beach
Get a coffee ☕️ at Shirley Delicious
Dine at Stoked Wood Fire Pizza 🍕 (I was so sad it was closed, but it's only open during the summertime!)
Explore Sooke
Overall, I rate this Airbnb a 4/5. The Ocean Treehouse is an adorable Airbnb that I will definitely stay at in the future. It's super affordable and in the perfect location, so if you are planning a solo trip or a getaway with your partner, I highly recommend the Ocean Treehouse.
---
Do you need a travel writer for your tourism or travel business? I offer travel blogging and short-form content services just for you!
Check out my Writing Portfolio for samples of my work 😉